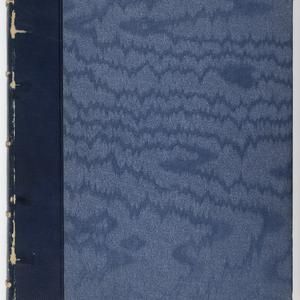 Reverend John McGarvie papers, 1825-1847
Microfilm : CY 2075, frames 1-79 (C 254)
Microfilm : CY 866, frames 464-612 (A 1332)
Microfilm : CY 1034, frames 74-233 (A 1613)
Microfilm : CY 2726, frames 88-348 (A 2062)
4 volumes of textual material - manuscript
A 1332 , A 1613 , A 2062 , C 254
Title
Reverend John McGarvie papers, 1825-1847
Permalink
https://collection.sl.nsw.gov.au/record/1bGdQpmY
Item for use in the Library. Access conditions apply. You will need a Library card.
More details
Full title
Reverend John McGarvie papers, 1825-1847
Contents
A 1332
Diary on board the ship Greenoch, and in New South Wales, 1825-1828

A 1613
Poems and prose, 1825-1835

A 2062
Journal, 1843-1847

C 254
Memorandum book, 1829-1830
Administrative / Biographical history
Reverend John McGarvie was minister first at Ebenezer Church, Portland Head, and then at St. Andrew's Scots Church, Sydney.
Description source
Information transferred from Short Catalogue (typed) as part of the eRecords Project, 2011-2012
General note
Keyword subjects:
Greenoch (Ship)
Access information
For use in the Library
1
---
How to access? Enquire for access at the desk or online
Please note: This catalogue is a work in progress and some collections, resources and features are not yet available.