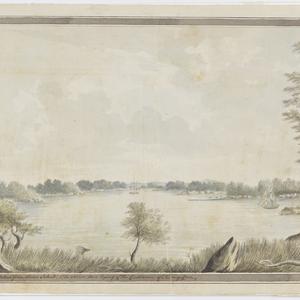 Views of Port Jackson, 1788 / possibly by William Bradley
Out of copyright : Artist died before 1955
Please acknowledge: : Mitchell Library, State Library of New South Wales
Record title
Views of Port Jackson, 1788 / possibly by William Bradley
Record identifier
1l4dXZK1
Record permalink
https://collection.sl.nsw.gov.au/record/1l4dXZK1
Online State Library Digital Collections, see in viewer below.
Item for use in the Library. Access conditions apply. You will need a Library card.
More details
Full title
Views of Port Jackson, 1788 / possibly by William Bradley
Contents
a. A view in Port Jackson taken from Sirius Island; the Sirius lying of [sic] the entrance of Sydney Cove, 1788 / possibly by William Bradley
Titled as above on grey border inner frame line
21.9 x 38.2 cm inside frame lines, on sheet 27.8 x 43.8 cm

b. A view in upper part of Port Jackso...
Description source
Information transferred from Pictures Card Catalogue as part of the eRecords Project, 2008-2009.
General note
The handwriting of the title is similar to that in Bradley's Journal ; the style of the drawing is similar to the sketches in his journal (ML Safe 1/14)Provenance notes filed at Ab 195Copy Print : PX*D 311(a) ; PX*D 311(b) available on open access in the Mitchell Library Reading RoomSubject keywords...
Attributions / Conjectures
It has also been suggested, by G. C. Ingleton, that Governor John Hunter could be the artist
Date created
1788
Undated; dated from time H. M. S. Sirius was in Port Jackson
Access information
Please note: This catalogue is a work in progress and some collections, resources and features are not yet available.