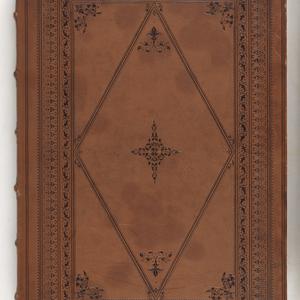 Theatrum orbis terrarum.
[Antuerpiae : Auctoris aere & cura impressum, absolutumq́ue apud Aegid. Coppenium Diesth, 1573.
[8] leaves, [70] double leaves of plates, [32] leaves : 70 maps ; 43 cm.
MRB/X912/7B (16th Century)
Title
Theatrum orbis terrarum.
Item identifier
74VKOOomWgOg
Permalink
https://collection.sl.nsw.gov.au/record/74VKOOomWgOg
Item for use in the Library. Access conditions apply. You will need a Library card.
More details
Full title
Theatrum orbis terrarum.
Author / Artists
Diesth, Aegid. Coppenius (Aegidius Coppenius)
Hogenberg, Frans, approximately 1539-1590
Llwyd, Humphrey, 1527-1568. De Mona druidum insula
General note
"De Mona Druidum insula ... epistola ... Humfredi Lhuyd" (a1r-a3v) Catalogus auctorum on A5r-A6v lists 92 names. The 70 numbered double-page sheets, tipped onto stubs at the centerfold, bear 96 maps, with descriptive letterpress on the recto of each first leaf. The legends of most maps name the aut...
Additional physical form availability note
Language
Reference code
(AuSN)b25070617-61slnsw_inst
(OCoLC)225071534
Access information
For use in the Library
---
How to access?
Enquire for access at the desk or online
Call number
MRB/X912/7B (16th Century)
Location
Mitchell Library
---
Please note: This catalogue is a work in progress and some collections, resources and features are not yet available.