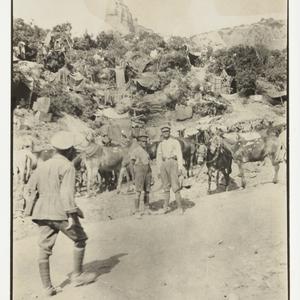 [The Australian Imperial Forces in Egypt and at Gallipoli]
Photographs - 6.5 x 11 cm.-9 x 12 cm. - 20 silver gelatin photoprints
Out of copyright : Created before 1955
Please acknowledge : Mitchell Library, State Library of New South Wales
Title
[The Australian Imperial Forces in Egypt and at Gallipoli]
Permalink
https://collection.sl.nsw.gov.au/record/92e77E3Y
Online State Library Digital Collections, see in viewer below.
Item for use in the Library. Access conditions apply. You will need a Library card.
More details
Full title
[The Australian Imperial Forces in Egypt and at Gallipoli]
Contents
1. Another view of beach with dugouts mules etc. 1915
2. Tending graves on Gallipoli. Note dugouts on ridge in background, 1915
3. ANZAC horse hospital. Note roads etc. all of which were made after landing on wild scrub country exposed to enemy fire, 1915
4. Men of 1st Brigade on transport<...
Signature / Inscriptions
Some of photoprints are initialled "C.S." on reverse
General note
War diary of Claude S. Smith held at MLMSS 3040A bibliography of servicemen's and women's diaries of World War I is held in the Mitchell Library Original Materials Reading Room at PXn 878State Library of New South Wales collection of World War I pictorial material Digital order no:Album ID : 1014773...
Access information
For use in the Library
1
---
How to access? Enquire for access at the desk or online
Please note: This catalogue is a work in progress and some collections, resources and features are not yet available.