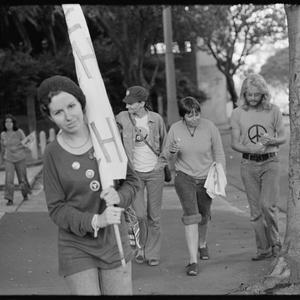 Item 0034: Tribune negatives including May Day march, May 1974 / photographed by Anne
Copyright status : In copyright
Copyright holder : SEARCH Foundation
Rights and Restrictions Information : Reproduction and rights for the images are licensed under Creative Commons Attribution 4.0 BY International Licence. Under this licence you are free to copy, distribute, remix and build upon this content as long as you acknowledge the State Library of New South Wales and the SEARCH Foundation
Please acknowledge : Mitchell Library, State Library of New South Wales and Courtesy SEARCH Foundation
Title
Item 0034: Tribune negatives including May Day march, May 1974 / photographed by Anne
Permalink
https://collection.sl.nsw.gov.au/record/93QV2yw1
Online State Library Digital Collections, see in viewer below.
Item for use in the Library. Access conditions apply. You will need a Library card.
More details
Full title
Item 0034: Tribune negatives including May Day march, May 1974 / photographed by Anne
Contents
Includes:

Women in May Day march, 1974

May Day March, 1974

Original negative sleeve titled May Day march Roll 2, May 5 1974, Anne
Description source
Contents list transcribed from original index held with the collection at ON 160 (Index 1), with additional information from original negative sleeve.
Access information
For use in the Library
1
---
How to access? Enquire for access at the desk or online
Please note: This catalogue is a work in progress and some collections, resources and features are not yet available.