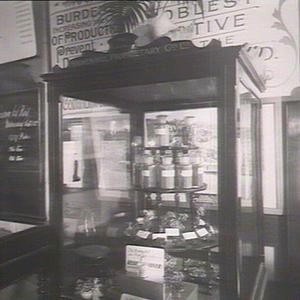 Mining exhibition, Sydney Exchange
Export this record
Export record to excel
File type to download
Beta version
Item Permalink
https://collection.sl.nsw.gov.au/record/94Rk0Ey1
Beta version
Record title
Mining exhibition, Sydney Exchange
Record identifier
94Rk0Ey1
Record permalink
https://collection.sl.nsw.gov.au/record/94Rk0Ey1
Mining exhibition, Sydney Exchange
Location: Online State Library Digital Collections, see in viewer below.
How to access original: Item for use in the Library. Access conditions apply. You will need a Library card.
Mining exhibition, Sydney Exchange
—

Physical Description

Photographs - Dry plate. 15 x 12 in. P.
Access and use
Access Conditions
Ask a Librarian online or in the reading room.
Subjects
More information
—

ALTERNATIVE TITLES
Full title
Mining exhibition, Sydney Exchange
—

NOTES
General note
GPO original locations or series - St3096
From NSW Govt Printer series - Mining Exhibition.
Digital order no:d1_10741
—

CONTEXTUAL INFORMATION
Original held by
Government Printing Office original negative archive is held at State Archives & Records Authority of New South Wales as NRS 21689 Images [Government Printing Office] & NRS 4481 Glass Negatives. State Library NSW holds a low resolution copy image only. Please direct all enquiries, including image orders from the original negative, to State Archives...
Identifiers
—

PRIMARY IDENTIFIERS
Record Identifier
94Rk0Ey1
Permalink
https://collection.sl.nsw.gov.au/record/94Rk0Ey1
How to access this item
Due to the evolving COVID-19 situation, the State Library of NSW is temporarily closed.
Requesting of items will also be unavailable until the Library re-opens.
Please check the
website
regularly for updates.