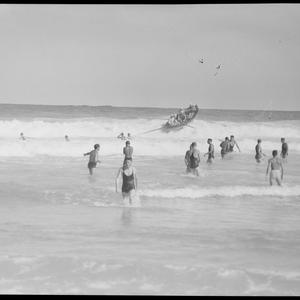 Curl Curl Carnival, 1 January 1938
1 negative - 9 x 11 cm (3 1/4 x 4 1/4 in. format)
Out of copyright : Created before 1955
Please acknowledge : Mitchell Library, State Library of New South Wales
Title
Curl Curl Carnival, 1 January 1938
Permalink
https://collection.sl.nsw.gov.au/record/9PQW64Xn
Online State Library Digital Collections, see in viewer below.
Item for use in the Library. Access conditions apply. You will need a Library card.
More details
Full title
Curl Curl Carnival, 1 January 1938
Description source
Title, dates, and notes taken from negative(s), envelope housing negative(s), slip accompanying negative(s), or devised by Library volunteer.
General note
Title & date from negative. Assumed by Library volunteer to be Pix
Alphanumeric designations
Access information
For use in the Library
1
---
How to access? Enquire for access at the desk or online
Please note: This catalogue is a work in progress and some collections, resources and features are not yet available.