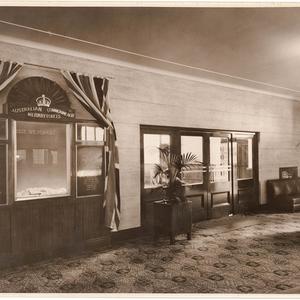 Hood Collection part II : [Buildings: commercial and public, interiors and exteriors]
Photographs - 20 x 26 cm. or smaller - 135 photoprints
Title
Hood Collection part II : [Buildings: commercial and public, interiors and exteriors]
Permalink
https://collection.sl.nsw.gov.au/record/9gk5dZJ9
Online State Library Digital Collections, see in viewer below.
Item for use in the Library. Access conditions apply. You will need a Library card.
More details
Full title
Hood Collection part II : [Buildings: commercial and public, interiors and exteriors]
Contents
Commercial and public buildings: offices, factories, warehouses, etc. - interiors
1. [Unidentified foyer with Australian Commonwealth Military Forces roll of honour]
2. [Reception, McKay Massey Harris Ltd.]
3. [Union Steam Ship Co. (U.S.S. Co. ?) foyer with lifts, stairs, panelling]
4. [...
Description source
Chiefly untitled, some with pencilled captions, others identified from Home & Away videodisc. Titles in brackets have been devised by cataloguer.
General note
Many of these photographs were taken for, and published in, architectural and building periodicals such as "Building", "Constructional review", "Modern building magazine" and "The builder"
Digital order no:Album ID : 823782
Access information
For use in the Library
1
---
How to access? Enquire for access at the desk or online
Please note: This catalogue is a work in progress and some collections, resources and features are not yet available.