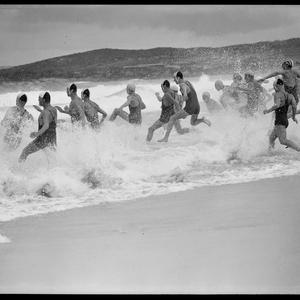 [Surf lifesavers], 20 January 1942[?]
Export this record
Export record to excel
File type to download
Beta version
Item Permalink
https://collection.sl.nsw.gov.au/record/9gkR8zm9
Beta version
Record title
[Surf lifesavers], 20 January 1942[?]
Call numbers
ON 388/Box 044/Item 215
Record identifier
9gkR8zm9
Record permalink
https://collection.sl.nsw.gov.au/record/9gkR8zm9
[Surf lifesavers], 20 January 1942[?]
Location: Online State Library Digital Collections, see in viewer below.
How to access original: Item for use in the Library. Access conditions apply. You will need a Library card.
[Surf lifesavers], 20 January 1942[?]
—

Physical Description

1 negative - 9 x 11 cm (3 1/4 x 4 1/4 in. format)
Access and use
Copying Conditions
Out of copyright : Created before 1955
Please acknowledge : Mitchell Library, State Library of New South Wales
Physical Access Conditions
This material is held in cold storage and requires 3 working days notice to retrieve. Please submit your request through Ask a Librarian
More information
—

ALTERNATIVE TITLES
Full title
[Surf lifesavers], 20 January 1942[?]
—

NOTES
General note
Assumed by Library volunteer to be Pix. Faint title and date on negative - indecipherable
Alphanumeric designations
Description source
Title, dates, and notes taken from negative(s), envelope housing negative(s), slip accompanying negative(s), or devised by Library volunteer.
Identifiers
—

PRIMARY IDENTIFIERS
Call Numbers
ON 388/Box 044/Item 215
Record Identifier
9gkR8zm9
Permalink
https://collection.sl.nsw.gov.au/record/9gkR8zm9
How to access this item
Due to the evolving COVID-19 situation, the State Library of NSW is temporarily closed.
Requesting of items will also be unavailable until the Library re-opens.
Please check the
website
regularly for updates.