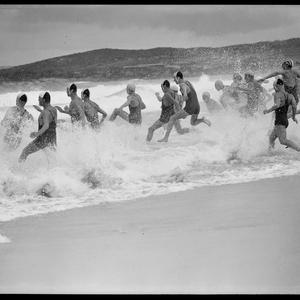 [Surf lifesavers], 20 January 1942[?]
1 negative - 9 x 11 cm (3 1/4 x 4 1/4 in. format)
Out of copyright : Created before 1955
Please acknowledge : Mitchell Library, State Library of New South Wales
Record title
[Surf lifesavers], 20 January 1942[?]
Record identifier
9gkR8zm9
Record permalink
https://collection.sl.nsw.gov.au/record/9gkR8zm9
Online State Library Digital Collections, see in viewer below.
Item for use in the Library. Access conditions apply. You will need a Library card.
More details
Full title
[Surf lifesavers], 20 January 1942[?]
Description source
Title, dates, and notes taken from negative(s), envelope housing negative(s), slip accompanying negative(s), or devised by Library volunteer.
General note
Assumed by Library volunteer to be Pix. Faint title and date on negative - indecipherable
Alphanumeric designations
Access information
Please note: This catalogue is a work in progress and some collections, resources and features are not yet available.