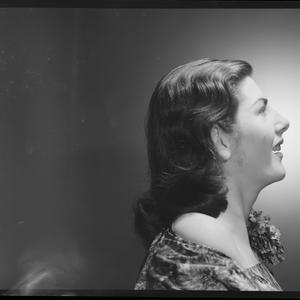 File 03: Three heads, Jan Fahey for Kriesler, September 1947 / photographed by Max Dupain
10 negatives - 5 x 7 in. - black & white
Out of copyright : Created before 1955
Please acknowledge : Mitchell Library, State Library of New South Wales
Title
File 03: Three heads, Jan Fahey for Kriesler, September 1947 / photographed by Max Dupain
Permalink
https://collection.sl.nsw.gov.au/record/9qoaZLJ1
Online State Library Digital Collections, see in viewer below.
Item for use in the Library. Access conditions apply. You will need a Library card.
More details
Full title
File 03: Three heads, Jan Fahey for Kriesler, September 1947 / photographed by Max Dupain
Description source
Max Dupain and Associates / database compiled by Eric Sierins, 1992-2011
General note
Photographs taken for: Jackson Wain & Co.
Conservation note
Negatives at Mitchell Library call no ON 559/Box 17/nos. 61-63 overlaid to form montage
Alphanumeric designations
Max Dupain and Associates job no. JW3
Max Dupain and Associates box annotation: Jackson Wain 1
Access information
For use in the Library
1
---
How to access? Enquire for access at the desk or online
Please note: This catalogue is a work in progress and some collections, resources and features are not yet available.