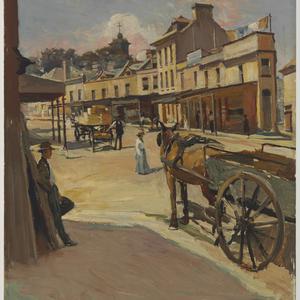 Argyle Street, looking towards the Observatory Hill, ca. 1902 / Julian Rossi Ashton
ML 861 , Status: On display – Paintings from the Collection, Room 1, West Wall, no. 41
Out of copyright : Creator died before 1955
Please acknowledge : Mitchell Library, State Library of New South Wales
Record title
Argyle Street, looking towards the Observatory Hill, ca. 1902 / Julian Rossi Ashton
Record identifier
YK5QyORn
Record permalink
https://collection.sl.nsw.gov.au/record/YK5QyORn
Online State Library Digital Collections, see in viewer below.
Item for use in the Library. Access conditions apply. You will need a Library card.
More details
Full title
Argyle Street, looking towards the Observatory Hill, ca. 1902 / Julian Rossi Ashton
Source
Purchased, 1902 by NSW Government from 'Old Sydney' exhibition and presented to Art Gallery of NSW (per Hon. E.W. O'Sullivan); transferred to Mitchell Library, 1933.
Description source
Information transferred from Pictures Card Catalogue as part of the eRecords Project 2008-2009
Titled in pencil on back in former Library officer's hand.
Exhibited in
Old Sydney: The Rocks and Millers Point
Observing Sydney - views of and from Observatory Hill
Paintings from the Collection
Signature / Inscriptions
Signature, in pencil and faded 'Julian R Ashton' at lower left.
General note
Transferred from V1/St/Arg/2

Copy print available on open access in the Mitchell Library Reading Room
Digital order no:a3740001
Date created
ca. 1902
Undated; dated from time of purchase
Access information
Please note: This catalogue is a work in progress and some collections, resources and features are not yet available.