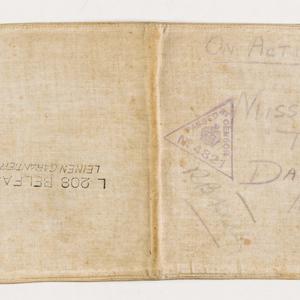 Letter written on German officer's cuff, 1917
1 cuff - 28.7 x 10.8 cm - linen
Record title
Letter written on German officer's cuff, 1917
Record identifier
YdmdeLp9
Record permalink
https://collection.sl.nsw.gov.au/record/YdmdeLp9
Online State Library Digital Collections, see in viewer below.
Item for use in the Library. Access conditions apply. You will need a Library card.
More details
Full title
Letter written on German officer's cuff, 1917
Contents
Folded, white shirt cuff with a pair of buttonholes on both edges.

Obverse reads: 'On Active Service. Miss M. Bailey, "Tara" David Street Marrickville Sydney Australia'.

There is also a postal marking '30 No 17' and a triangular stamp consisting of a crown and 'passed by censor No. 4...
Source
Bequeathed by Sir William Dixson, 1952
Spencer List number: 110c
Description source
Information transferred from Pictures Card Catalogue as part of the eRecords Project, 2009-2010
Exhibited in
Dixson 60
Life Interrupted: Personal Diaries from World War I
General note
Digital order no:Album ID : 997280
Access information
Please note: This catalogue is a work in progress and some collections, resources and features are not yet available.