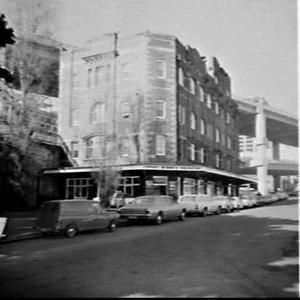 The Big House Hotel, Sydney
Export this record
Export record to excel
File type to download
Beta version
Item Permalink
https://collection.sl.nsw.gov.au/record/YolEXZE9
Beta version
Record title
The Big House Hotel, Sydney
Call numbers
Australian Photographic Agency - 39282
Record identifier
YolEXZE9
Record permalink
https://collection.sl.nsw.gov.au/record/YolEXZE9
The Big House Hotel, Sydney
Location: Online State Library Digital Collections, see in viewer below.
How to access original: Item for use in the Library. Access conditions apply. You will need a Library card.
The Big House Hotel, Sydney
Australian Photographic Agency - 39282
—

Physical Description

Photographs - 06 x 06 cm. - 1 photonegative
Access and use
Copying Conditions
Copyright status : Taken by Australian Photographic Agency for account: Mr. Williams 750533. Reproduction for purposes other than private study or research will require permission.
Access Conditions
Ask a Librarian online or in the reading room.
Subjects
More information
—

ALTERNATIVE TITLES
Full title
The Big House Hotel, Sydney
—

AUTHORS, ARTISTS AND CONTRIBUTORS
Author / Creator
—

NOTES
General note
Digital order no:d7_39282
Alphanumeric designations
Identifiers
—

PRIMARY IDENTIFIERS
Call Numbers
Australian Photographic Agency - 39282
Record Identifier
YolEXZE9
Permalink
https://collection.sl.nsw.gov.au/record/YolEXZE9
How to access this item
Due to the evolving COVID-19 situation, the State Library of NSW is temporarily closed.
Requesting of items will also be unavailable until the Library re-opens.
Please check the
website
regularly for updates.