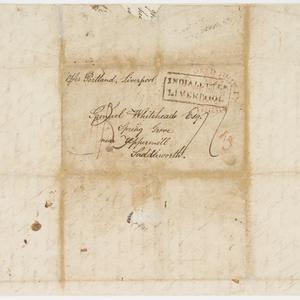 Letter from Joseph Whitehead to his uncle Samuel Whitehead, 1 March 1838
0.01 metres of textual material (1 folder) - manuscript
Copyright status : In copyright
Research & study copies allowed
Record title
Letter from Joseph Whitehead to his uncle Samuel Whitehead, 1 March 1838
Record identifier
YolgA6Q9
Record permalink
https://collection.sl.nsw.gov.au/record/YolgA6Q9
Online State Library Digital Collections, see in viewer below.
Item for use in the Library. Access conditions apply. You will need a Library card.
More details
Full title
Letter from Joseph Whitehead to his uncle Samuel Whitehead, 1 March 1838
Contents
Manuscript letter from Joseph Whitehead, of Macquarie Place, Sydney, to his uncle Samuel Whitehead, in England. The four page letter is written in ink, folded (and originally sealed) for posting, with a Sydney 1838 postmark. It includes a description of the wool trade in colonial New South Wales and...
Source
Purchased from Michael Treloar Antiquarian Booksellers, Adelaide, September 2016
Administrative / Biographical history
Joseph Whitehead was evidently a sometime wool trader, having placed an advertisement in 'The Sydney Herald' of 15 January 1838, announcing that he 'will purchase wool of this season's clip'.
Access information
Please note: This catalogue is a work in progress and some collections, resources and features are not yet available.