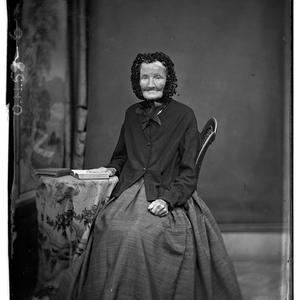 Portraits taken at Parramatta, 1860s-1890s / photographed by Henry William Burgin II
Photographs - 10 x 8 cm. approx - several broken or with pieces missing (21,21a,23,45-46,65,74,83,95,99,104); some emulsion has flaked off most plates - 107 wet plate glass negatives
Title
Portraits taken at Parramatta, 1860s-1890s / photographed by Henry William Burgin II
Permalink
https://collection.sl.nsw.gov.au/record/YzOgPRM9
Online State Library Digital Collections, see in viewer below.
Item for use in the Library. Access conditions apply. You will need a Library card.
More details
Full title
Portraits taken at Parramatta, 1860s-1890s / photographed by Henry William Burgin II
Contents
1. Best
2. Chapman
3. Clark
4. Connerdry
5. Den
6. [Old Mrs] Denning, [ca. 1865, cf. 104]
7. [?] Goodins
8. [Hill?]
9. Hosborn [standing - cf. 106]
10. Howard [of] Sevenhills
11. Jones
12. Kelley
13. Landers
14. McGuire
15. Muston
16. Parsons
17. [?] P...
Source
Presented by the Australian Society of Genealogists, Nov. 1964
Pic.Acc.430
Exhibited in
Nelson Meers Foundation Heritage Collection
General note
Some portraits identified from names scratched into the plates
Digital order no:Album ID : 823580
Access information
For use in the Library
1
---
How to access? Enquire for access at the desk or online
Please note: This catalogue is a work in progress and some collections, resources and features are not yet available.